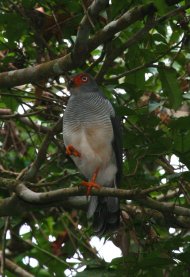 Published: May 06, 2012
Text by Jaqueline Fortuna
Andrew Whittaker described in 2002 a new species of
Micrastur
(Forest-Falcon) from the rainforests of Brazil and adjacent northeastern Bolivia. Initial detection of the cryptic new taxon was enabled through hearing its distinctive voice, notably different from any of its congeners. Several specimens of the undescribed species subsequently were located in several museums because the new species closely resembles
M. gilvicollis
(Lined Forest-Falcon). These specimens had remained unrecognized for more than a century. The new taxon not only has a vocal repertoire that differs from those of congeners
M. gilvicollis
,
M. plumbeous
(Plumbeous Forest-Falcon) and
M. ruficollis
(Barred Forest-Falcon), but it also exhibits subtle yet consistent morphological distinctions that distinguish it from all other Forest-Falcons. This elusive raptor inhabits humid
terra-firme
forest in southeastern Amazonia, and a disjunct population exists in the Atlantic Rainforests of eastern Brazil (the latter known only from historic specimens) and merits great conservation concern. Andy named the Cryptic Forest-Falcon
Micrastur mintoni
in honor of his first bird mentor during his childhood, Dr. Clive Minton. Get a copy of the paper "A new species of Forest-Falcon (Falconidae:
Micrastur
) from Southeastern Amazonia and the Atlantic Rainforests of Brazil"
here
.