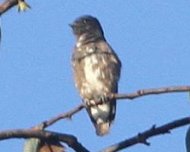 Published: June 17, 2012
Text by Andrew Whittaker and Jaqueline Fortuna
This is the first documented photograph of the Dusky Purpletuft (
Iodopleura fusca
) for Brazil, made by Andrew Whittaker. This bird is principally restricted to the Guianas, poorly-known and rarely seen species. Andy was running the Amazon Manaus Area tour and photographed the Dusky Purpletuft with the group.
Click here to see the register
.
Note in 2000 Andy Whittaker registred the first documented Brazilian record of this species, detailed in his paper with Guy Kirwan "Natural history data for the canopy-dwelling purpletufts
Iodopleura
(Cotingidae), and first documentation of Dusky Purpletuft
I. fusca
for Brazil".
Click here to read
.