"Our ground agent is Birding Brazil Tours, recently featured in the Sunday New York Times travel section. Birding Brazil is run by Andy Whittaker, who came to Brazil in the early 80s to band birds for me in the Amazonian rainforest and fell so in love with the country that he stayed on and now makes his living leading tours around South America."
Richard O. Bierregaard, Jr., 2005.
Birding Brazil Tours has provide for the last 18 years customized worry-free birding and nature tours throughout Brazil. Customers have included several of the world's leading birding companies; world renowned ornithologists as Dr. Robert S. Ridgely, Steven Hilty, Thomas Schulenberg and Guy Tudor, top world lister's alike Tom Gullick, the late Phoebe Snetsinger and Martin Edwards besides the television channel BBC Wildlife through David Attenborough on the famous "Life Of Bird" series, affirming the quality of our services.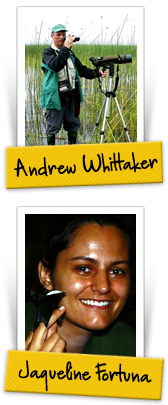 the first birding guide in Brazil and nowadays brings aboard 26 years experience of bird guiding and avifauna research throughout Brazil and most other South American countries. Andy has described several new species to science (eg. Cryptic Forest-Falcon, Chapada Flycatcher, Delta Amacuro Softtail) and published many important scientific articles. Also guided many VIPS including Prince Phillip, Duke of Edinburgh (president of WWF), senators Al Gore (Nobel prize winner 2007) and Tom Hayden, Sir David Attenbourgh and news reporter Tom Brokaw. Recently he has been honored with the scientific name of the Brazilian endemic Alta Floresta Antpitta (Hylopezus whittakeri).

Running Birding Brazil is Jaqueline, born in southern Brazil, where has graduated in Biology. She moved to Manaus in 2007 and started studying manakins genetics. Later she finished her master's research on the White-crowned Manakins and started heading Birding Brazil since 2011. Jaqueline as well has carried out Amazon bird inventories.

The main business is organizing custom made trips for independent neotropical birders (offering professional ornithological knowledge) for private or set tours to any of the many exciting Brazilian or South American birding destinations. We also cater for amateur non professional small groups of birdwatchers, butterflying, nature lovers, photographers and general ecotourists worldwide. Looking forward to organize a tour of your lifetime!